Blockchain Fund Summit (summary)
An amazing event with top fund managers, family offices, & private equity professionals
Went to an awesome event today. With the rumbles of blockchain week already starting, today was a great way to kick it off with a great crowd of our friends & colleagues in the investment management / blockchain space. We learn about so many strategies from long, short, multistrat, market neutral, trend following, etc.. and people are even talking about digging into the network and nodes to start deriving fundamentals. Below is a summary of a few of the talks for those of you who missed it.
Insights from VC Firms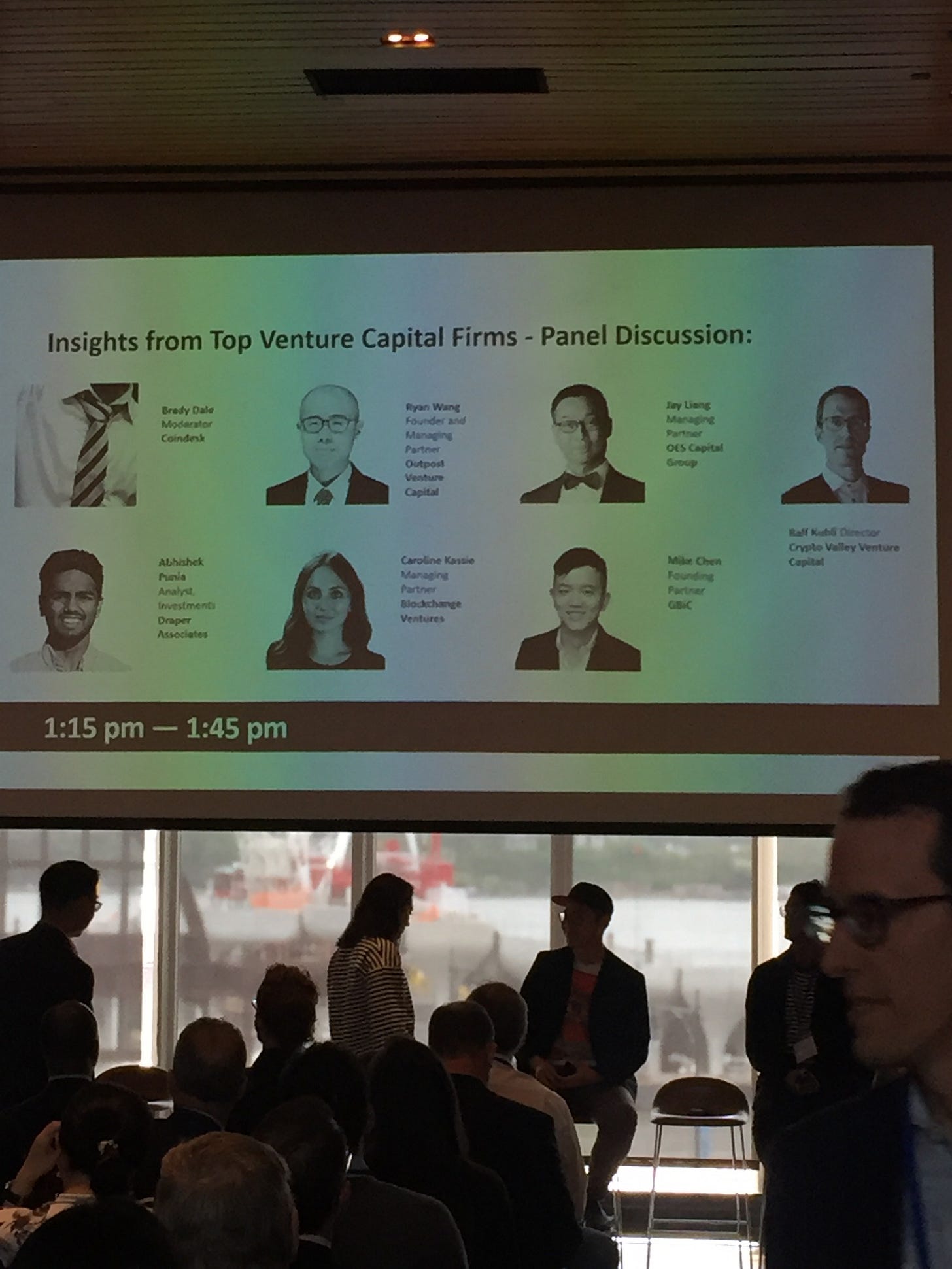 What are some interesting areas to the venture funds?

Options in Insurance

The future of identity

Frontier technologies and early security tokens m

Decentralized Finance: Opennode
Hong Kong has been the leading jurisdiction in Asia and the Hong Kong market has also opened up more opportunities in security tokens

US has a lot of regulatory requirements vs. other jurisdictions where they embrace more technologies which adds more benefits for both projects and investors

The pain is what drives the adoption. People's money is not safe in the bank in other countries (the pain). Crypto is not necessary in the US, because when people expect money to be safely stored it is in the banks it is. In other countries, people's access to their own money could be locked by governing bodies
When it comes to lending, some interesting projects are: dharma & blockfi. Lending is subsidizing borrowers.
The bear market might seem to be over, but we are not in a bull market yet.

What are projections for the next few months

New money coming in

New users coming in

A lot of enterprise traction, but not In B2C.

The chance could be a readjustment since the crash

A lot of conventional investors are getting into this space. In The future, only people with fundamentals, partnering with regulation will have the biggest future
Quantum computing: you don't need quantum computing to hack exchanges, there's some quantum technologies that claim to be able to block being hacked.

Are there still token opportunities?

"We invest in equity but would not preclude tokens if they are relevant to the business model."

"It is good to be agnostic of the vehicle, but it's important to invest in the right team if also investing in the token."

"With tokens you can exit in phases (used to be called liquid venture). People are not as excited about trading when it comes to security tokens"
Secondary Markets vs. Token Sale Opportunities
Strategies

Supported a lot of infrastructure projects (ontology, game engine in China, existing connections in enterprises, ergo has the total market share of the enterprise)

Trend following

Market neutral
Leotank digital: "It's preferred to have existing traction. We were mostly short the whole year."
"Here at 256, we look at how the network is performing and how has it grown. Whatever is settled on the chain is the chain itself. Look at a lot of inflows and outflows of the blockchain, this helps with the secondary strategy. Trend following is mainly long only."

Pythagoras: Trend fund is long and short.
ICO assets that get listed

"In early 2017, my auditor said it needs to be in 100% cash and never reinvested. This is the only time in life that my auditor added value." (LOL!!!)

Primary investments are from the seed round to series A

We spent time investing into a quant fund to learn from what they have done. After the tokens get liquid, it can be decoded on the momentum of the community.

Positions can be let go if the market is big enough to support the activity. Need to balance IRR against bringing value to the network. Staking is a big thing this year and sometimes people will be interested in investing.

Staked: how much are you staking as a service vs. staking ourselves. So it's important to understand how the nodes are supported. So it's important to own our own nodes and tokens.

Adjusting for liquidity risk

"Since we do high frequency trading on the 20 oldest exchanges there wasn't a lot of fake volume.

When trading, we measure the slippage (indicator of fake volume)

If you invest in huge positions, it's important to get rid of them.
Market Outlook for the next 6-12 months

More and use cases coming out

Normal end users will use blockchain tech & wallets

More institutionalization

Market cycles are getting longer, and no one is using crypto

2019 Market Outlook and fund strategies

Maker is trying to run an algorithmic stablecoin

You have to get the technologies in the hands of the users. Dfiniti is another waiting to see when it will launch

Pantera: invested in a total of 41 and still own 39 of them. Market is closed but will probbaly Open in the next 9 months.

Puting a lot of capital in venture equity

In the bear market

Bitcoin: Never seen an asset go parabolic twice and it's going on a 3rd time.

Investment Thesis

Everything will be tokenized so there is a faith in the infrastructure to allow the pipes and plumbing to be ready for the exchanges & otc desks.

Bullish Outlook

When running an index, there's an issue with the top 5 and top 10

Market neutral strategies profits off the volatility

Within our opportunistic fund, we dont think the same strategy

Early Capital is to allow founders get product market fit and the speculators set back the technology development

It's good and bad when only accredited investors can get returns. Here's a few favorite projects

Veechain: Everything doesn't have to be decentralized. It's interesting to bridge the central vs. decentral world.

Bitcoin will still be the juggernaut , but once it settle

Basic attention token - founded JavaScript & the brave browser

Cosmos & polkadot

Indx: masternode fund

Bitcoin: halving - reward structure on the halving

Staking returns go up and down

Augur- prediction market could also disrupt capital markets

Options space adds risk on risk which has caused a lot of risk to funds